Generating power that's cleaner, more affordable and more reliable
than ever before—that's our vision for a sustainable energy future.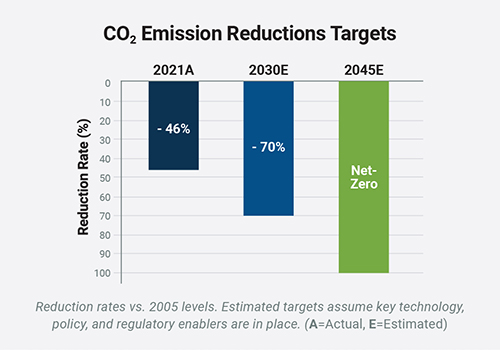 Looking forward and innovating now
We are committed to meeting the evolving energy needs of our customers and communities.
Providing sustainable energy has always been important to us. And because it's even more important to you now, it's an even bigger part of our plans.
We developed an ambitious—and attainable—plan to be carbon neutral by 2045. This roadmap allows us to responsibly transition and manage a diverse energy supply as renewable and storage technologies continue to advance.
Right on track
We're embracing new energy sources to generate more power with less impact to our environment.
We're adopting new technologies to modernize our grid and support more renewables.
We're investing in more tools and options to keep your energy costs down and give you more control.
We're celebrating over 100 million megawatt-hours of wind generation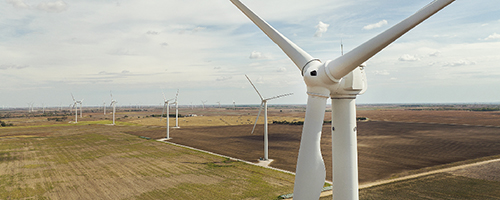 Did you know one wind turbine can produce up to 3,000 kilowatts per hour? That can power Kauffman Stadium for just over nine minutes, KCI airport for just over four minutes and several customer's homes for a couple months.
Utilizing and generating wind creates a much cleaner environment and offers our communities a more sustainable and affordable option. With over 274 wind turbines in our energy mix, we're well on our way to achieving our goal of carbon neutral by 2045.
History of Evergy Sustainability
Although cleaner energy is a major part of our future, it's also a part of our past. For decades, we've strived to pave the way for cleaner energy through carbon-free and renewable efforts.
ESG Strategy
When it comes to our environmental, social and governance (ESG) strategy, we're making strides every day to support a diverse energy mix, reduce emissions, lessen water usage and so much more.
Resources and Additional Information
Request for Proposals
Wind RFP
Project requirements Evergy, Inc (Evergy) is issuing this Request for Proposals (RFP) to solicit offers from interested parties (Respondents) with the intent of securing proposals for the acquisition of an aggregated total of 1000 MW of nameplate rated wind generation projects with a Commercial Operation Date (COD) on or before Dec. 31, 2026.
Projects with a COD by June 30, 2024 and Dec. 31, 2025 will be given preference
All projects must be able to connect with the Southwest Power Pool (SPP)
Projects located in Kansas are preferred
Proposals are due Nov. 23, 2021. All proposal responses should be directed to 2021EvergyWindRFP@evergy.com as outlined in the RFP documents.
Schedule
| | |
| --- | --- |
| MILESTONE | COMPLETED-BY DATE |
| Issue RFP | Oct. 18, 2021 |
| Submit Appendix A and B with intent to bid on or before | Oct. 29, 2021 |
| Pre-bid conference | Nov. 4, 2021 (11 am CDT) |
| Submit all questions | Nov. 15, 2021 |
| Bids due | Nov. 23, 2021 (5 pm CST) |
| Short list selected | Dec. 17, 2021 |
| Final negotiations complete | Q1-Q2 2022 |
| Expected Notice to Proceed (NTP) for 2024 COD | Q1-Q2 2023 |
| Preferred COD #1 | June 2024 |
| Preferred COD #2 | Dec. 2025 |
| Latest COD | Dec. 2026 |
Documents
Templates
CCR & Renewable Energy Compliance Reports